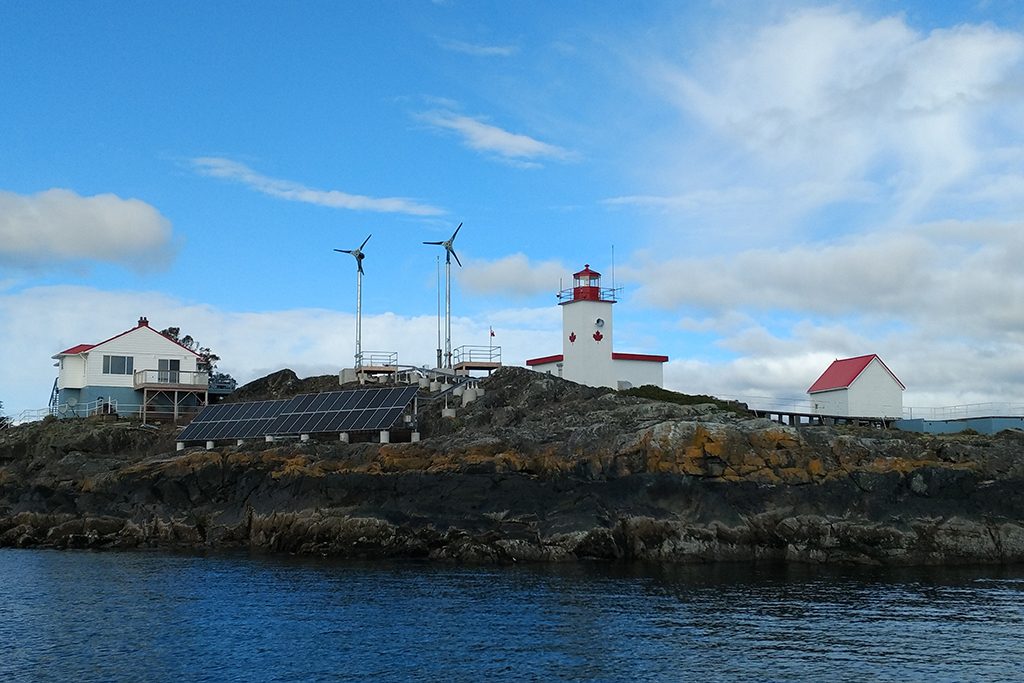 A lighthouse in Canada is thought to be one of the first of its kind warning mariners of the perilous rocky coast using renewable energy.
Two 5KW solar panels and two 3KW wind turbines have been providing power to the staffed light station on Entrance Island since 2018; helping guide vessels safely into and out of Nanaimo harbour.
The Canadian Coast Guard contracted the installation of the marine grade wind turbines and solar panels to help offset the station's noisy diesel generators. The new equipment now provides more than 75% of the station's energy needs. The renewable energy project is expected to pay for itself in about five years.
The shift to green energy has logistical benefits as well as cost saving advantages- previously approximately 20,000 litres of diesel had to be delivered to the island by Canadian Coast Guard ships every few years.
Each day, thousands of people on ferries, cruise ships, shipping vessels, recreational boats, and floatplanes pass by the Entrance Island Lighthouse and this important nautical and heritage landmark is now powered by renewable energy.
In a social media post the Canadian Coast Guard said it's proud of the progress that's been made with the greening of the Entrance Island lightstation, as well as others at Merry Island, Boat Bluff and Cape Scott, and it plans to convert other remote lightstations to renewable energy sources in the future.
The wind turbines were manufactured by Scottish company SD Wind Energy and supplied to the Canadian Coast Guard through Okanagan Solar.  Richard Caldow, Business Development Director for SD Wind, said "Our turbines are unique in that they have the ability to withstand extreme gusts, variable climatic conditions and offer a low cost of servicing.  Using wind and solar instead of diesel generators as the main power source in these remote regions will help to deliver clean, green energy whilst having a positive impact on the surrounding environment with the reduction in fossil fuel usage and transportation."
T: +44 (0) 1560 486570 or E: info@sd-windenergy.com 
Please add your comments
Leave a Reply