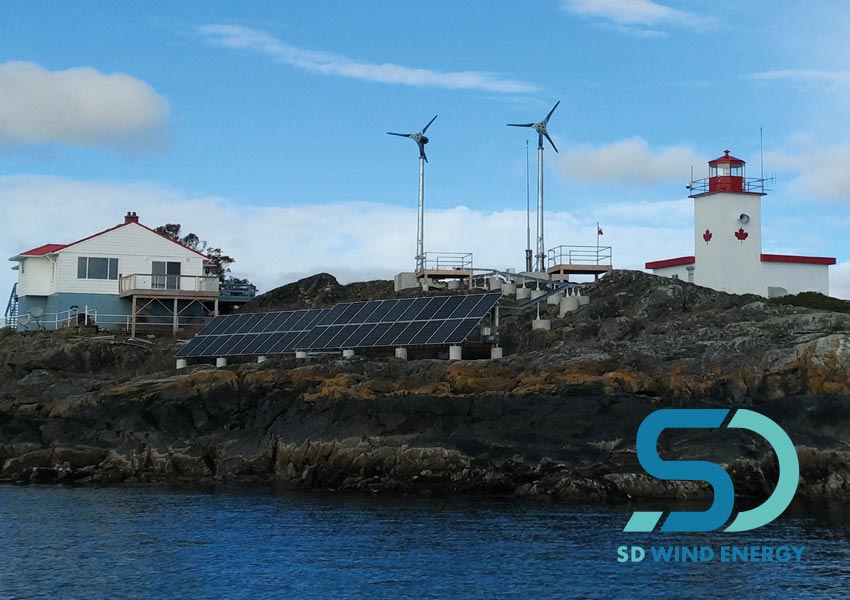 The SD3 small wind turbine and wind energy in Canada
The SD3 small wind turbine was selected by Fisheries and Oceans Canada and the Canadian Coast Guard due to their ability to withstand extreme gusts, variable climatic conditions and which offer a low cost of servicing.
These new developments are helping to reduce reliance on diesel generators as the main power source in these remote regions and will help to deliver clean, green wind energy in Canada whilst having a positive impact on the surrounding environment with the reduction in fossil fuel usage and transportation.
The organisation is responsible for Canada's economic, ecological and scientific interests in oceans and inland waters and the progression to the small wind turbine from SD Wind Energy is a major advancement in how they are powering their facilities and properties in these sensitive environments. The systems installed are specially configured battery charge systems that are designed to be easy to operate and maintain.
Merry Island lighthouse
One of these flagship installations is on Merry Island lighthouse, which is associated with marine transportation safety in a major artery for commercial ship traffic in and out of Vancouver. Owing to the role played by the lighthouse in the security of shipping lanes, its contribution to the development of Vancouver and Canada's West Coast is of inestimable value.
---
The SD3 small wind turbine systems will each produce on average 14,000kWh annually and help to off-set $20,000-$30,000 in diesel costs, which is the core objective of the energy strategy for the Canadian Coast Guard. If this were connected to the BC Hydro Grid it would offset approximately $7,000 annually.
---
"Most light-stations are located in areas with extreme weather conditions. This provides a unique set of challenges. It is important to ensure these systems are robust enough to withstand the test of time and have minimal maintenance. The SD3 3kW small wind turbines have performed very well over the winter storms" 
Shaun Loader - F&O Canada / Coast Guard
---
 "Having visited the pilot locations for this project and met with the team at the Canadian Coast Guard and the contractors involved with the installations was a great experience and further enhances our reputation as being truly global in the delivery of remote access power systems in harsh weather regimes" 
Blair Caldow - Sales Manager - SD Wind Energy
---
Utilise wind energy in Canada with the SD3 small wind turbine
The SD small wind turbine range is available in a range of specifications for all weather environments, from Marine and Offshore to Cold Climate. 
ENQUIRE NOW ABOUT MARINE GRADE SYSTEMS
Please add your comments
Leave a Reply