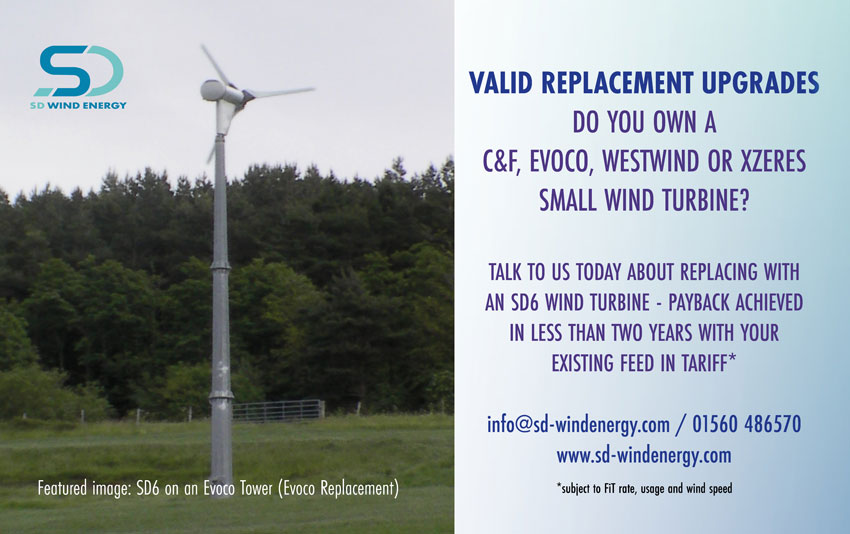 SD Wind Energy can supply valid replacement upgrades of  turbines which may no longer be operational or where provision of repair and replacement parts is no longer available. These makes include: C&F, Evoco, Westwind & Xzeres. 
The existing tower, foundation and electrical infrastructure can in most cases be utilised, therefore ensuring the costs for replacement to the SD6 remains cost effective and where a high tariff is in place, the payback can be achieved in less than two years*
Valid replacements may require prior approval from your feed in tariff supplier and SD can assist with obtaining approval as well as any amendment to your existing planning approval.
For community projects, we can help with the sourcing of grant aid to facilitate the replacement of your dormant wind turbine**
SD Wind Energy have been replacing alternative small wind turbines over the past 12 months and we are able to provide references as well as arranging visits to other sites where a replacement has already been commissioned.
With over 25 years operational run-time and a 5 Year warranty on offer, the SD6 is amongst the most sought-after wind turbines around the world. With no shut-down required and a class 1 design, the SD6 ensures continuous generation in all wind speeds.
Service contracts are available via our network of approved installers operating across the UK & Ireland which will give customers peace of mind that they have local support backed by a market leading wind turbine manufacturer.
Contact us today to find out more:
info@sd-windenergy.com or via 01560 486570
(*) FiT rate and local wind speed can be calculated to estimate payback
(**) SDWE will contact the local government office or energy agency to establish if grant aid would be available for community projects
Please add your comments
Leave a Reply