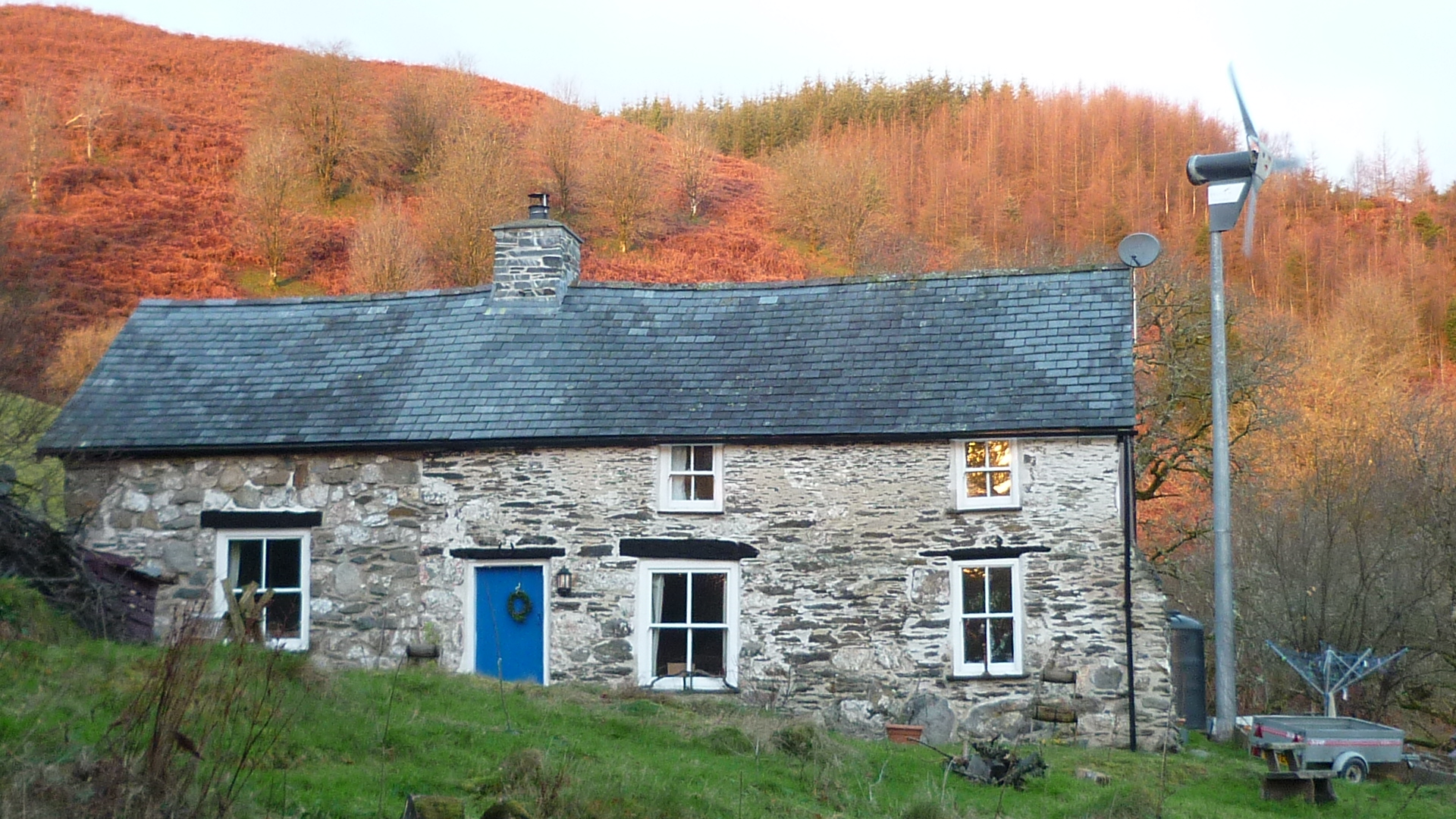 In 1970 the band finished a relentless period of touring, finding themselves in desperate need of peace to recuperate – and to write. They found it in Bron Yr Aur, then a humble holiday home with no power or mains water.
Without electricity the musicians were forced to turn away from their amplified, riff-heavy rock style and embrace a more acoustic, pastoral sound. For many years it was rumoured that the band's iconic hit, 'Stairway to Heaven', was written as they sat round the cottage's open fire. While guitarist Jimmy Page disputes that, there's no doubt that the album that came out of this period, 'Led Zeppelin III', leaned into the unplugged vibe and inspired a host of their peers to adopt a less formal, folky style.
Current cottage owners, musician Scott Roe and his wife Ruth, live as sustainably as possible; growing their own food, hops and they've even planted a mini orchard, but Scott still remembers seeing Bron Yr Aur for the first time and relishing the sensation of being cut adrift from the rest of the world. In his wife's family since the 70s, the cottage proved a challenging place to stay in the early days, with gas lamps, wood fires and one tiny solar panel offering the only power source. But the family could see past the difficulties and Ruth's father set about creating a comfortable, eco-friendly family home. Hoping to install the first wind turbine in Snowdonia National Park, they began to research reliability and practicality – the turbine would have to be brought up a steep track, erected without the help of heavy plant and be able to keep turning through storms that can, on occasion, bring down ancient woodland. On top of that, the park authorities insisted that the turbine mustn't affect the area's aesthetic. After much research they installed an SD Wind 2kW turbine in 2005, persuaded by the unit's size, simple design and track record with ferocious winds off the West Coast of Scotland. Completely off-grid, excess energy is stored in the cottage's battery bank and topped up by output from new solar panels and a small hydro unit. Since becoming owners of the historic cottage, commitment to sustainability, Bron Yr Aur is also a micro-farm. Local farmers were initially bemused by the Roe's decision to turn their small, rocky plot to growing but, thanks to intensely managed organic raised beds, the family now grows 75% of the vegetables they consume.
Scott, an ecologist to trade, can often be found in the garden and it's not uncommon for him to be tending to his crops when a music fan arrives at the gate, drawn from as far away as Bolivia or Vietnam to see the location that inspired 'Led Zeppelin III'. It's a tricky balance to strike – while the cottage is his family home, Scott remains conscious that people could have been dreaming of this place for many years and he's keen to preserve that sense of wonder. The family now offer retreats, by private arrangement, to ensure each visitor is able to enjoy the authentic Bron Yr Aur experience.  He's also found himself sharing intense emotional moments with pilgrims who have played the track Bron-Yr-Aur at the funeral of a loved one, and has developed a sixth sense for when he should go and chat to an overwhelmed guest.
Recently when Scott has found himself in conversation with overawed musicians, he's been able to offer then the chance to record tracks with him which he's crafting into an album to support the World Land Trust. Due out in summer 2022, the project involves everyone from folk heroes and indie legends to session stalwarts. Scott loves the idea of democratising art, breaking down barriers and bringing a range of people on board from spoken-word artists to local farmers with hidden harmonica talents. It seems fitting that some of the sessions took place at the cottage, powered by sun, water and wind. Bron Yr Aur continues to weave its magic as it inspires a new generation to creative heights.
For more information on Bron Yr Aur, visit www.bronyraur.com. For album details, www.scottboohai.com
Please add your comments
Leave a Reply