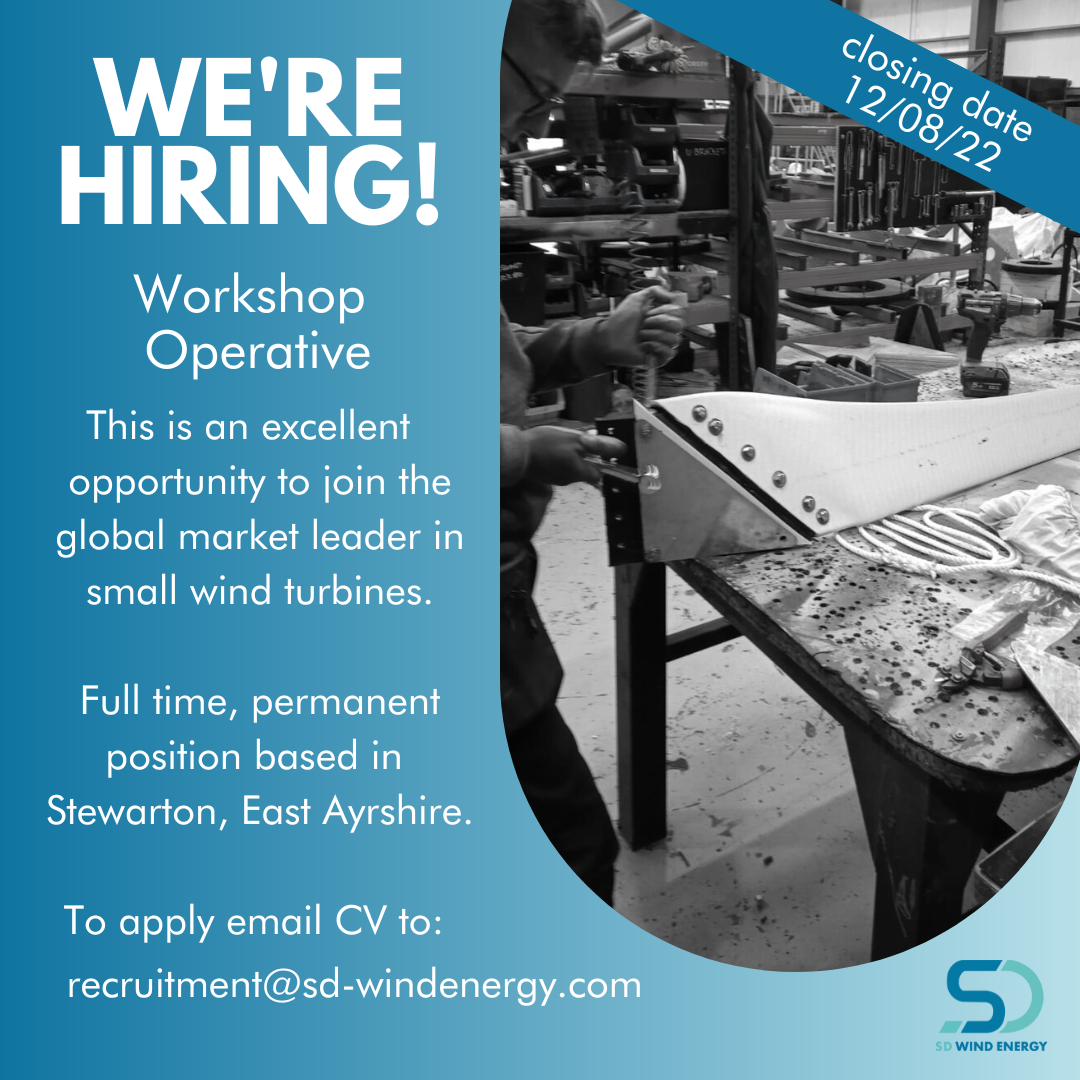 Looking for a new exciting role in renewable energy?
The SD Wind Energy product range is one of the most sought after around the world and we have a vacancy in our workshop for a Workshop Operative. 
Role: Workshop Operative
Location: Stewarton, Ayrshire
Reporting to: Workshop Manager
Role Summary
The Workshop Operative is for assembly of turbines and completed products dispatched, when all checks/paperwork has been fulfilled.
Responsibilities
 Assembly of SD3/SD6/P35 Turbines
 Assembly of Ex-turbines
 Requesting materials for Assembly and Fixing Area, including packaging
 Carrying out Assessment of Customer's Returned P35 turbines for refurbishment, compiling
reports and discussing reports with Sales Manager for Quotation purposes
 Painting/Spraying of turbines where necessary
 Fixing Area and packing of fixings
 Packing of Finished Goods and associated checks
 Goods In/Out and associated paperwork
 Forklift Truck Loading/Unloading of Transport vehicles
 Supporting the Workshop Manager to achieve the production plan
Knowledge & Experience
 Competent in manufacturing of turbines including Ex-turbines
 Competent in assembly of turbines including Ex-turbines
 Forklift Truck License Desirable
Job Type: Full-time
To apply, send your CV to recruitment@sd-windenergy.com or alternatively, you can apply through Indeed.com 
Closing date 12/08/2022
Please add your comments
Leave a Reply